Vasilopita: A New Year's Tradition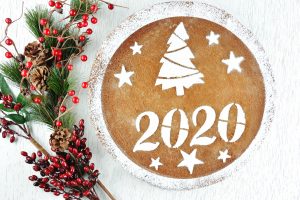 For Greeks, a New Year's celebration isn't complete without Vasilopita. Similar to the King Cakes of Mardi Gras, Vasilopita contains a gold coin or trinket, which is said to bring luck to the receiver. Each New Year's Day families cut the cake, blessing the house and bringing luck to the family for the coming years. Cake is sliced and given to all those present, in order from oldest to youngest. Depending on the culture and family, bread can also be sliced in order to symbolize God, saints, the poor, and the household.
Vasilopita is often associated with St. Basil's Day, the beginning of the New Year and the epiphany season. While the origins of the tradition are somewhat unclear, the history is tied to the fourth century and St. Basil's desire to give to the poor. Baking the jewelry into the sweetened bread, the gesture preserved dignity of those who received it.
Join us this New Year in cutting the Vasilopita and celebrating the good fortune to come in the New Year.